Chilli Bottle packaging for Charlie and Ivys.
We're very proud of this high quality gift box. We enjoyed working with Jennie at Charlie & Ivy's on this one. It took time to get it right and we're thrilled that Jennie is happy with the result.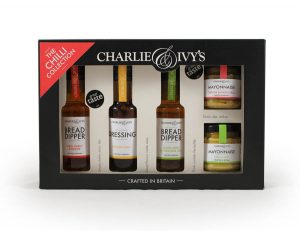 'We're delighted with the boxes – they really work – especially within the retail sector which is where we wanted them to be. David and Bernie were great. They helped at every step of the way and gave us great customer service: even meeting me in a random car park to supply me with some of the boxes at short notice!" Jennie, Charlie & Ivy's.
The Palmer family have now been making their award-winning products on their farm in Yorkshire since 2014. Great care and attention goes into every bottle, from the first recipe development ideas through to the packaging.
Charlie and Ivy are passionate about delicious, simple food, and how that brings people together. 
Read more about their products:
https://www.charlieandivys.co.uk
Packaging for Retail has a wide range of gift packaging options for Sauces, Preserves and jar Packaging. 
Please take a look at our Sauces, Preserve & Jar Packaging online:
https://www.packaging4retail.co.uk/product-category/preserve-jar-packaging/
#Beercangiftpackaging #Beercanshippingboxes #Beerbottlegiftpacksandcarriers #Beerbottleshippingboxes #Giftboxes #Logostampsandinkpads #Seasonalpackaging #Winebottlepackaging #giftpackaging #packagingforretail #ginpackaging#gingiftpackaging #transitboxes #shippingboxes #seasonalpackaging #ginbottlepackaging #tonicbottle #saucespreservesandjampackaging