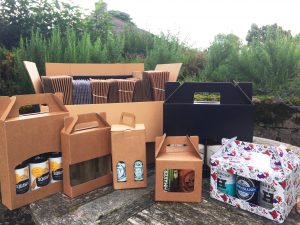 Our customers are the lifeblood of our business. With new innovations in packaging as well as can and bottle size options constantly evolving we are always keen to know what it is they need from us as packaging suppliers.
What is it for them that matters most?
So, we asked the question. We had a variety of answers which we are working through. However, one surprising response we have heard consistently, especially from several of our smaller brewery and bottle shop customers is storage space, or rather the lack of it.
Every spare inch seems to be taken up with equipment and stock. When suppliers like us set an MOQ of 50 units, this causes a dilemma. These customers typically want 50 or 100 boxes – but a variety of boxes. Maybe 20 – x 330ml gift packs, 20 x 500ml gift packs, 30 x bottle carriers, and perhaps some can packs.
In response, we at Packaging for Retail have started to offer a mixed case of 100 gift packs – both 330ml and 500ml, bottles carriers and can packaging, Christmas packs, both bottles and cans and – well whatever you want really! We hope this helps a little!
Contact David or Bernie for more information or for any other packaging enquiry.
Call us 01729 860171 or 07496 506 483
Or email david@packagingforretail.co.uk