Content re-produced by kind permission of the Academy of Chocolate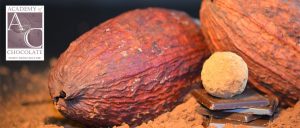 Record number of entries for the prestigious chocolate awards signals major growth in the fine chocolate market
A record-breaking 1,200 entries have been judged at the 2018 Academy of Chocolate Awards – 400 more than last year, rising from 12 when it first launched in 2005.
The entries, made up of chocolate produced in more than 45 countries, included a significant increase in chocolate made by smaller producers – reflecting growing awareness of the origin, craft and sustainability of real chocolate.
The awards aim to recognise and showcase great-tasting chocolate and its producers. Entries were received from traditional chocolate-making producers in the UK, Europe, Canada and the USA, as well as newer producers from countries such as Colombia, Croatia and Korea.
Leading chocolatiers from across the industry, including Luke Frost of Valrhona and Keith Hurdman from Felchlin, came together to judge the awards, and were joined by Andrew Baker of The Telegraph, Charles Metcalfe MW and Spencer Hyman of Cocoa Runners, as well as some of the UK's most prominent chocolate bloggers and food writers.
Held at Westminster Kingsway College, London, industry experts took part in 15 days of judging – deliberating over key categories including Bean to Bar, Tree to Bar, Flavoured, Milk and White Bars, Filled chocolates, Spreads and Packaging.
A full list of gold, silver and bronze awards can be found below. The winners of the famous Golden Bean and other special Academy of Chocolate 2018 Awards will be announced at a glittering ceremony at Claridge's in July.
The awards have been organised by Silvija Davidson and Marie-Pierre Moine, who head up the Academy's awards committee.
Sara Jayne Stanes OBE, chair, Academy of Chocolate, said: "We are thrilled to have had a wider global spread than ever before, including innovative producers from the Far and Middle East.
"This year's entrants really raised the bar and we saw some very wild and innovative flavours.
"Consumer interest in craft chocolate is undoubtedly on the up and, as such, so too is the number of small-scale B2B producers, which make up the majority of entries this year.
"The talent and creativity of our new entrants and the consistent expertise of our regulars made for challenging and exciting judging. We are looking forward to announcing the overall winners in July."
Feedback for entries will be available from 29th May 2018
For all enquiries please contact Silvija Davidson: silvijadavidson@academyofchocolate.org.uk