PROTECT YOUR BRAND AND YOUR BOTTLES WITH OUR DOUBLE-WALLED HEAVY DUTY PACKAGING SOLUTIONS
As a food and wine producer, shipping packaging is a vital part of your branding process – both as a visual representation, but also as an essential factor in the overall customer experience. It plays a vital role in promoting the quality and personality of your products, but the other crucial purpose of packaging is to ensure that the product arrives at its destination fully intact.
There's nothing quite like the joy of receiving a parcel – your customer's positive experience is reliant on receiving their order trouble-free. And there is nothing quite so disappointing and annoying as opening up that parcel and finding damaged goods inside. It's even more frustrating when those goods contain liquid ingredients, such as wine, beer, or foodstuffs. If a supplier has chosen the wrong packaging for shipping glass bottles, it could cost them more than just that one order – it could cost them a regular repeat order normally received from satisfied customers.
WHAT QUALITY PACKAGING CAN DO FOR PRODUCT SUPPLIERS
There's always the danger of a bad review online. Because no matter how reliable your refunds and returns policy, it costs your customer time and frustration, in having to go through the whole reporting process. In brief – it leaves a nasty taste in the mouth when you want that taste to be a positive result of sampling your wares.
Spillages seep through the packaging and spoil other products in the package. Broken glass is an injury hazard. Broken deliveries smell and look unprofessional, and will put off your customer, no matter how quickly you respond to rectify the problem.
PROTECTING FRAGILE ITEMS
It is essential if you are shipping glass bottles to ensure your packaging is made from heavy-duty, eco-friendly cardboard, which is going to provide the best level of protection possible for your products.
Packaging For Retail specialises in the supply of a wide range of sturdy, sustainable packaging for shipping glass bottles and other fragile goods. Manufactured with internal fluting and double lining, the strength, and solidity of the boxes will provide effective protection for your bottles and jars while they are in transit.
Consideration is also given to the 'stackability' of the shipping boxes. Packaging For Retail understands that transit can be a hazardous time. As an artisan who puts so much love and passion into your products, you are handing over its care to a third party. Insurances may be in place for breakages, but there is nothing that can compensate for the loss of reputation if you become known as an unreliable supplier. You need to be confident that when shipping boxes the packaging is designed to stack safely and comfortably in the back of a van, and withstand a reasonable amount of movement and disruption.
If you choose the branded option for your shipping packaging, the visual impact of a spoiled parcel, with your logo and brand will erase the overall value of the reputation you have worked so hard to build.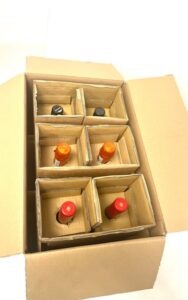 ENHANCE YOUR PACKAGING SOLUTIONS WITH P4R
Packaging For Retail can work with you to create a bespoke branded packaging solution for shipping your glass and fragile items. Available in a range of shapes and sizes manufactured in heavy-duty, 100% recyclable cardboard boxes, we will advise you on the best range to suit your product range to guarantee the safe, reliable, and 'whole' delivery for overall improved customer satisfaction.
Contact us to learn more.