Christmas Advent Beer Box for Yorkshire Dales Brewery.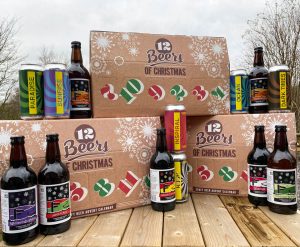 For over 15 years Yorkshire Dales Brewery have been making extraordinary Yorkshire beer. Whether your taste is for dark stouts, golden ales or juicy IPA's, you're certain to find plenty in our range to enjoy.
As well as our core range of always-available beers, we regularly have small batch, seasonal and collaboration brews available. We're proudly independent and we love what we do. Yorkshire beer at its finest!
For more information on Yorkshire Dales Brewery visit their website: https://yorkshiredalesbrewery.co.uk
Client testimonial:
'We are super pleased with the 12 beers of Christmas boxes . They compliment our top notch craft beers and make for the perfect beer gift for all beer lovers!
Also great customer service from all team at Packaging for Retail.
Cheers, Rob."
To order your 12 Beers of Christmas advent box, order online today: https://www.packaging4retail.co.uk/product/christmas-advent-box-dbx01/
Or contact us directly to find out more.
About Packaging for Retail:
Great packaging adds value to your products – we're passionate about packaging.
#Beercangiftpackaging #Beercanshippingboxes #Beerbottlegiftpacksandcarriers #Beerbottleshippingboxes #Giftboxes #Logostampsandinkpads #Preserveandjarpackaging #Seasonalpackaging #Winebottlepackaging #giftpackaging #packagingforretail #ginpackaging #gingiftpackaging #transitboxes #shippingboxes #12beersofChristmas #Christmaspackaging #minikegshippingbox