12 x 200ml Bottle Transit/Shipping Box.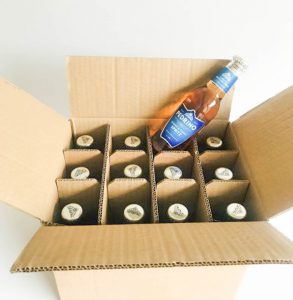 Perfect for 200ml – 250ml Tonic Bottles, Gin Bottles, Drinks Bottles, Sauce, Oils or even cosmetic products.
Dimensions: 260 x 195 x 200mm
Cell size: 60 x 60mm
FREE DELIVERY on 300+ units.
The box has a double-walled outer with double-walled dividers. All the closure flaps meet in the middle to create extra padding.
To view prices and Order online go to:
https://www.packaging4retail.co.uk/product/24-x-200ml-bottle-transit-shipping-box-db507/
Packaging for Retail Specialises in Gift Packaging and Transit and Shipping Boxes for Retail and Wholesale.
About Packaging for Retail.
Our gift packaging is made from fully recyclable and plastic-free materials. Packaging for Retail can provide bespoke print services Contact us for details, and we will give you a quote (minimum orders may apply).
Other products include.
#Beercangiftpackaging
#Beercanshippingboxes
#Beerbottlegiftpacksandcarriers
#Beerbottleshippingboxes
#Giftboxes
#Logostampsandinkpads
#Preserveandjarpackaging
#Seasonalpackaging
#Winebottlepackaging
#giftpackaging
#packagingforretail
#ginpackaging
#gingiftpackaging
#transitboxes
#shippingboxes