Cider & Beer Bottle Carry Box.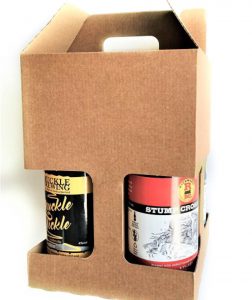 Our 4 x 500ml Cider & Beer Bottle Carry Box is suited to the 'Heritage Style' Bottle and as such, is a very popular option with Beer Bottle Shops.
Price: £0.75ppu ex VAT / Delivery.
Dimensions: 300 X 73 X 245mm.
Our Gift-Boxes are made of high-quality corrugated board and have a strong and secure handle, which makes them a very popular choice. We can also customise the Gift-Boxes by applying your own label/logo (Minimum Quantities Apply).
Alternatively, contact us to discuss our bespoke print service. We'd love to hear from you.
Order online: https://www.packaging4retail.co.uk/product/4-x-500ml-beer-and-cider-bottle-gift-box-db165/
Packaging for Retail specialises in gift packaging and Transit and Shipping Boxes for the Retail Industry. Please take a look at our full range on our website:https://www.packaging4retail.co.uk
#CanGiftPackaging #BottleGiftPackaging #CanShippingBoxes #BottleShippingboxes #BottleGiftPacksandCarriers #TransitToxes #GiftBoxes #GiftPackaging #Mixers #Cocktails #softdrinks #PreservesPackaging #JarPackaging #JamsPackaging #SeasonalPackaging #WinePackaging #GinPackaging #VeganBeer #WheatfreeBeer #BespokePackaging