Save 15% on our high-quality beer and cider packaging special offer.
6 X 330ML CARRY-OUT PACKS FOR BEER & CIDER BOTTLES & CANS when purchased online.
Regular price: £0.65 per unit – special offer price: £0.55 per unit.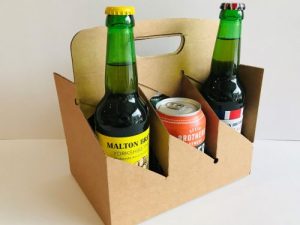 Our carry-out pack holds 6 x 330ml Beer or Cider bottles/cans. These cardboard carry-out bottles & can packs come in a high-quality plain craft which can be customised by applying your own label/logo.
To place an order please visit:
Packaging For Retail Beer and Cider Packaging Special Offer July 2020
CUSTOM OPTIONS AVAILABLE
If you'd like to apply your own labels or design, download the flatplan of the box and then upload your design when you're happy. Minimum order applies to custom designs.
Alternatively, we can provide bespoke print service. Contact us for details or a discussion. (Minimum order quantity 500).
About Packaging for Retail.
Packaging for Retail Specialises in Gift Packaging and Transit and Shipping Boxes for the Retail and hospitality industries. We supply a vast range of packaging to business across the UK.
We're passionate about your packaging and always provide a professional and efficient service to all of our customers.
Visit our website to see our full range and place your order today.
Other products include.
Beer can gift packaging
Beer can shipping boxes
Beer bottle gift packs and carriers
Beer bottle shipping boxes
Gift boxes
Logo stamps and ink pads
Preserve and jar packaging
Seasonal packaging
Wine bottle packaging.
All special offers are subject to availability and change, please check online for the up-to date price.