4 x 250ml Bottle Carrier for Beer Bottles or Tonic Water.
Our lovely friendsat Bennetts Kombucha kindly sent us a surprise gift! Samples of their Kombucha 365 – thank you so much! They're using our 4 x 250ml bottle carrier which they've branded with their logo and which compliments their unique product with its simplicity and vibrant colour.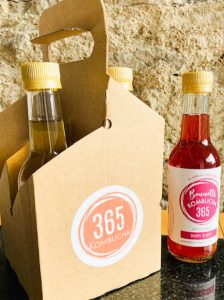 "So far I've tried the Lemon & Ginger Kombucha – it's very tangy and refreshing, perfect for those warm sunny days in the garden! Apparently it's great for the gut too!"
Bernie at Packaging for Retail.
Kombucha365 is an artisan brewed probiotic drink 'unhurriedly fermented in Devon' created by a registered nutritionist and brewed by the family. 🧡 Kombucha is excellent for restoring wellbeing in your gut and many other potential health benefits.
If you'd like to find out more about this product, please visit the website:
http://www.bennettskombucha.com
You can purchase our 4x 250ml Beer & Cider Bottle Gift Box online :
https://www.packaging4retail.co.uk/product/4-x-200ml-to-330ml-carry-out-packs-for-tonic-water-or-beer-bottle-db459/
Packaging for Retail makes a unique range of Beer Bottle Gift Packaging. This 4 x 500ml Beer Bottle Gift Packaging is suited to the 'Heritage Style' bottle and is a popular option with Beer Bottle Shops.
To view our full range of products, please visit our website: https://www.packaging4retail.co.uk
#BeerCiderCanGiftPackaging #breweryoutlets #bottleshopoutlets #BeerCiderCanShippingBoxes #Beer #Cider #BottleGiftPacksandCarriers #GiftBoxes #Shippingboxes #shippingcarrierbox #shippingcarrierpackaging #bennettskombcuha #authentictastingkombucha #goodforyourgut #Mixerspackaging #Cocktailspackaging #Saucespackaging #Preservespackaging #JarPackaging #SeasonalPackaging #WineBottlePackaging #vegan #softdrinkspackaging #lowalcoholpackaging #wheatfreebeerpackaging #softdrinkcanpackaging #veganbeer #glutenfreebeer #naturalwine #redwine #whitewine #rosewine #prosecco #englishwine #sparklingwine #kombucha