Wine has long been considered a great gift for all manner of occasions. Whenever you're stuck on what to get someone, a classic bottle of red or a celebratory bottle of bubbly always seems to be the way forward. With this being said, it can feel too boring to simply place a bottle in a gift bag and call it a day, but how else can you cleanly present a wine gift?
Well, with the help of Packaging For Retail, the possibilities are endless when it comes to wrapping and packaging wine gifts. We're here to keep you up to date with the wine packaging trends of 2022. Don't fall behind, read on to learn about the upcoming trends of the year.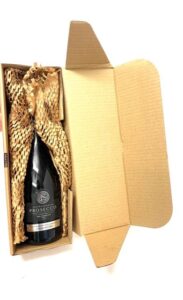 Gift Boxes
Firstly, we have wine gift boxes that are perfect for dressing up any bottle gift. Whether you're gifting one, two, or three bottles, we have a cardboard wine box packaging solution to suit. Our wine bottle boxes are formed from plain packaging that can be customised with logos or other bespoke prints. Additionally, if you're feeling creative, our packaging for wine can easily be decorated to add that personal touch.
The gift box trend is set to skyrocket in 2022 as restrictions continue to be lifted and celebrations are on the cards. With weddings, graduation ceremonies, and birthday parties on the rise, gift boxes will be imperative for presenting those bottles of bubbly.
Shipping Boxes
Next on the list is our shipping boxes that are ideal for transporting wine across the country or even overseas. Our wine shipping boxes are able to carry anything from one to six bottles and are perfect for sending wine far and wide.
Like our gift boxes, our standard shipping boxes come as plain packaging, however, they can be customised with your choice of logo. With Packaging for Retail you can be sure that your bottles are protected. Wherever they go our boxes' double walled outers and internal fitments and end caps ensure padding and protection. Shipping security is at the forefront of our minds here at Packaging For Retail.
As previously mentioned, the pandemic has greatly affected the upcoming packaging trends of 2022. Not only will celebrations be allowed to commence, but pubs and restaurants will be in full swing and in constant need of an alcoholic top-up. Therefore, wine bottles will be being distributed more and more via shipping boxes. In addition to this, the differing restrictions of various countries mean that travelling is still a sticky subject. Therefore, if you have an alcoholic gift that needs to be sent overseas, you can rely on a wine transit box.
Postal Packs
The final packaging trend of 2022 is the postal pack that holds one wine bottle for a lucky recipient. The single wine box is also double walled and has internal space to accommodate bubble wrap or tissue paper. Like our other solutions, our postal packs are made from plain packaging that can be customised with a label, logo, or other bespoke print.
The popularity of wine postal packs is set to be as popular as ever in 2022. With some people still isolating and distant a gift of wine in a postal pack makes a special gift. Whether it's birthdays or anniversaries or just to send a gift, you can rely on a postal pack to get that special gift idea to get there safely.
Step into 2022 with Packaging For Retail
Here at Packaging For Retail, we're all about innovative packaging solutions ready for the New Year. Not only is our packaging of great quality, but it can all be reused and recycled, making for an eco-friendly solution.