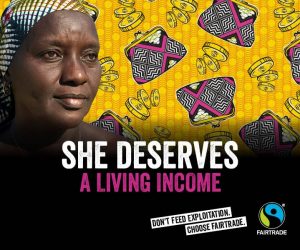 Living in lovely Yorkshire and supplying many customers in the food and drink sector I am an advocate for supporting small, local artisan producers here at home. We're so lucky to have access to all the wonderful products they make – including chocolate. According to Divine Chocolate we consumed a massive 660,900 tonnes of the stuff last year!
That said we live in a global world and however little we might have, poverty is relative and extreme poverty is a disease that impacts EVERY aspect of life – these are just a few……
Access to education and attainment
Low life chances
Participation in society
Access to justice
Mental health
Ill health
Unrest and violence
Nelson Mandela said "Overcoming poverty is not a gesture of charity. It is an act of justice. It is the protection of a fundamental human right, the right to dignity and a decent life." 
This year Fairtrade Fortnight 2019   is running the 'She Deserves' Campaign focusing on the people – in particular the women – who grow the cocoa in the chocolate we love so much.
According to Fairtrade  '1.86 is the amount a cocoa farmer in West Africa needs to earn each day in order to achieve a living income. Currently, a typical cocoa farmer in Cote d'Ivoire lives on around 74p a day. Almost all cocoa farmers in West Africa live in poverty.
For the women the situation is even worse. They may plant and harvest on the farm, look after children, carry water, collect wood, cook and clean for the family, and transport the cocoa beans to market but often with fewer rights than men.' 
During this two-week period from 25th February to 10th March Fairtrade have outlined 7 ways you can get involved and support the 'She Deserves' Campaign.
Here at Packaging4Retail we believe in working ethically. We're thinking about different ways to support this important campaign, including signing the petition and of course donating. We're also planning to have some chocolate related fun!