We all know someone who loves a beer, making it the ideal gift! Despite this, packaging for beer cans and beer bottle storage solutions isn't always the most aesthetically pleasing. Packaging For Retail has come up with the perfect selection of beer gift boxes in the UK for the shipping of beer bottles, and craft beer packaging for gifts. Our beer bottle shipping boxes and cardboard beer carriers are sure to make your boozy gift presentable. Do you know what UK beer boxes we have on offer here at Packaging For Retail?
Beer Can Gift Packaging
Firstly, we have a range of beer can gift packaging to neatly pack away and display any beer can gift. Our carrier boxes allow you to display the label of the tipple whilst it sits nicely in the packaging. Most of our storage solutions are crafted from plain cardboard, though we currently stock a handful of Christmas-themed packaging in anticipation of the festive season. Despite this, our plain packaging solutions are perfect for all manner of occasions as they provide you with the freedom to decorate yourself or keep things minimal and simplistic.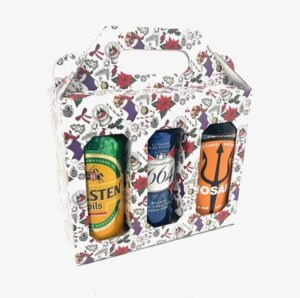 Beer Can Shipping Boxes
Whether it's for personal or commercial purposes, you might find that you have to ship a selection of beer cans. This is where our sturdy beer can shipping boxes come in. You can be certain that your beer is in safe hands with both our single- and double-walled solutions, protecting the cans from any dents or damage.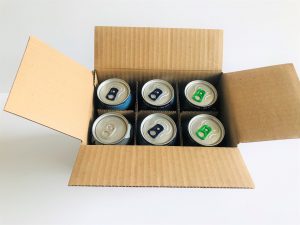 Shipping is more prominent than ever as a result of the COVID-19 pandemic because we have been restricted from travelling ourselves. Therefore, the packaging industry has soared due to gifts and products being shipped nationwide and overseas. Not only does Packaging For Retail assist pubs, restaurants, and breweries in replenishing their stock, but we also give you a helping hand in reaching out to loved ones.
Beer Bottle Shipping Boxes
For avid beer drinkers, there's no denying that beer in a bottle and beer in a can have completely different flavours. As a result, you need the right shipping solution to suit individual tastes. For those who prefer drinking beer from a bottle, you can opt for either single – or double-walled solutions; each of which is designed to hold the weight of up to 24 bottles.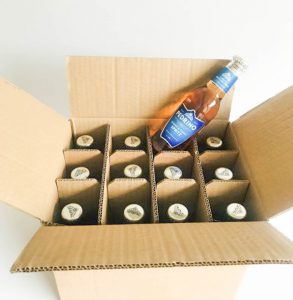 For those who ship their beer in bottles, you can opt for 6 12 or 24 bottle options
Every shipping box is printed with a "FRAGILE" warning and has arrows to indicate which way up the box should be placed.
What Makes Top-Notch Beer Packaging?
Plenty of packaging retailers will claim to have the top-notch packaging solution, but what does this mean? Perhaps the most important element of packaging boxes is their strength; quite simply, if they're unable to bear the weight of heavy goods, they render themselves almost useless. Similarly, they need to have ample space to accommodate the number of items that they are made to carry.  When it comes to fragile goods such as glass bottles, these can easily be broken when forcefully shoved into a box that can't handle the volume.
Similarly, protective layers need to be in place, such as dividers, to prevent the products from causing damage to one another. Finally, the packaging needs to be aesthetically pleasing, even if it's just plain and simple. Visually unappealing packaging won't entice and invite people to open up the box and look inside. Packaging For Retail promises to deliver on each of these requirements. 
Package Your Beer with Packaging For Retail
Here at Packaging For Retail, we're devoted to ensuring that our packaging solutions qualify as top-notch. Please contact us with any enquiries regarding our products.