Online shopping is increasingly in demand, with most consumers relying on the internet to buy everyday items, including alcohol. In fact, it's thought that 24% of British consumers have purchased alcohol online. This is great news for artisan alcohol producers because it makes it easier to reach a larger audience, but a lot of thought needs to be put into how to packaging a glass bottle for shipping.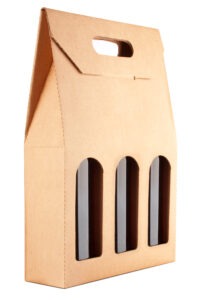 The last thing creators and consumers alike want is for carefully crafted delicacies to turn up shattered or damaged. We are experts in alcohol packaging which means we know how to package a bottle to protect it. To help you on your alcohol shipping journey, we're going to share some of our top tips.
Choose the Right Shipping Box
This sounds like an obvious thing, but you need to put a lot of thought into choosing the right shipping box. All our bottle packaging is made from high quality, double-walled cardboard which provides just the right amount of rigidity and cushioning. We also put a lot of thought into how big each box is. Too much space and the bottles will move and potentially break in transit from impact, but too little space and they will clink together, again causing a potential breakage.
The same goes for single bottle boxes. To work out if your bottles will fit in our shipping boxes based on their size, be they wine bottles, beer bottles or sauce bottles, please contact us and we will be able to advise you further to ensure you get the right fit first time.
Don't Overstuff Boxes
Multipack gift boxes are limited in terms of how many bottles you can fit in them – if it's a two-bottle gift box, you won't be able to fit three bottles in. However, shipping and transit crates are slightly different. If you're using a shipping box, make sure you're not putting more bottles in it than the box is designed for. For example, if the crate is for 12 bottles, don't try and force an extra bottle in per row.
Not only will the fit be off, but the box will be strained, and it could cause damage. Stick to what is recommended and don't over-stuff. Likewise, don't under-package because you could have similar issues, especially with weight distribution.
Appropriately Label Packaging 
All our boxes are designed specifically to keep bottles safe, so when you've found the right box for your needs in terms of quantity and height, all you need to do is label it appropriately before sending it to the courier for delivery. We would recommend adding 'fragile' labels and an arrow to describe which way up the box should remain. We can print these onto your box for you along with your branding if you'd prefer.
It's important to label crates correctly because even though our boxes are double-walled for maximum protection, they're not immune from bumps and knocks during transit and at the courier sorting depot.
Order Bottle Transit Boxes
If you know what bottle box solution you need, you can place an order online for plain boxes. Alternatively, if you want a bespoke printed option or more information on how to package a bottle of wine for shipping (or any other type of bottle), please get in touch with us.