At Packaging For Retail Ltd, most of our solutions utilise cardboard sheets for producing our packaging. There are many reasons why we solely use cardboard – namely because it's strong, can be easily branded and because it's eco-friendly. Cardboard is a great packaging material and is very much a part of everyday life, but have you ever wondered how it's made?
The Structure of Cardboard 
In our business there are two types of cardboard sheets: solid board and corrugated board, which are the subject of this article. The structure of corrugated cardboard is made up of the corrugated inner layer called the 'fluting' or 'wall', and this is lined with liners either side. This creates a cushioning effect. As most of our packaging is for bottles, this makes it an ideal substrate/material for us to work with. The corrugated sheeting can be built up with more than one wall or fluting. For example, one wall is called single walled, two walls are called double walled, and so on. The fluting is generally made up of 100% recycled cardboard and paper. There are two types of liners that surround the fluting; a test liner which is largely made from recycled paper and cardboard which generally goes on the inside of the box, and a Kraft liner that is largely made from virgin wood pulp that goes on the outside of the box.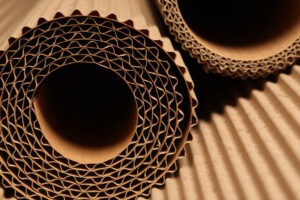 The TreEs Used
All our cardboard is made from sustainably sourced recycled cardboard and paper, and the outside Kraft liner is made from pure pulp which is also sourced from sustainable forests. These are managed by our suppliers who are all FSC accredited. We are able to trace every batch of cardboard sheets almost right back to the trees they came from – such is the degree of traceability and sustainability in the industry. For each tree felled, at least one more tree is planted.
Making the Corrugated Sheets
To produce corrugated cardboard sheets, the first step is to make the fluting. Cardboard reels go through a series of rollers to form the fluting. There are several sizes, and they are alphabetically categorised, e.g. 'A', 'B', 'C' and so on. The most effective thickness of flute for our cardboard packaging is 'E' flute. This gives a cushioning effect but is also firm enough for use in printed products. Once the flute is made, the liners are applied. The carboard is then slit and sheeted into the relevant sizes. This is all performed on one machine. Once we receive the cardboard sheets cut to our required size in our warehouse in Harrogate, we convert it either into plain cardboard packaging for our stock items, or we use it to create bespoke printed cardboard box packaging products.
Bespoke Printing 
We design boxes from scratch based our customers' briefs. We print a high quality, full colour litho image from artwork supplied by our customers onto a sheet of paper. Once printed, we mount the printed paper sheets on to the corrugated sheets. We then finish the process by die-cutting and creasing the final product.
Order Cardboard Packaging UK Today
If you're an artisan wine, beer, cider, beverage or preserve supplier in the UK or in Europe, we can help you create impactful and high-quality food and drink packaging for your brand. To find out more, please get in touch. Alternatively, have a look at some of the projects we've previously worked on.