Make someone happy this Christmas.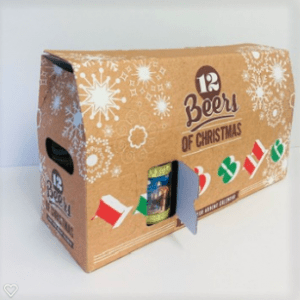 This 12 Days of Christmas Can/Bottle Advent Box; it's the perfect gift. The box is made from fluted corrugated board with internal double-walled dividers. Suitable for bottles and cans. It can also come with an outer box for secure shipping.
Strong and sturdy, fill it with your favourite beers or non-alcoholic drinks.
12 X 500 & 330ML Bottles – £3.95 per unit, minimum quantities apply.
Order online at:
https://www.packaging4retail.co.uk/product/christmas-advent-box-dbx01/
Or contact us directly to find out more.
About Packaging for Retail:
Great packaging adds value to your products – we're passionate about packaging.
#Beercangiftpackaging #Beercanshippingboxes #Beerbottlegiftpacksandcarriers #Beerbottleshippingboxes #Giftboxes #Logostampsandinkpads #Preserveandjarpackaging #Seasonalpackaging #Winebottlepackaging #giftpackaging #packagingforretail #ginpackaging #gingiftpackaging #transitboxes #shippingboxes #12beersofChristmas #Christmaspackaging #minikegshippingbox