Our Christmas Beer/Cider Can Gift Pack makes the perfect gift.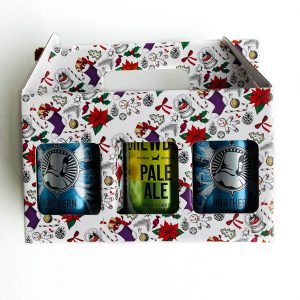 Our Gift Boxes are quality plain craft cardboard, printed litho-laminate with a colourful Christmas theme. Minimum orders apply.
Alternatively, we can provide bespoke print service. Contact us for details or a discussion. (Minimum order quantity 500).
Our 330ml beer and cider can packaging is available in either 3, 4, or 6 can gift boxes. (See also Transit Packs).
Dimensions: 220 x 70 x 130.
Order online: https://www.packaging4retail.co.uk/product/3-x-330ml-beer-or-cider-can-gift-pack-db152xmas/
Packaging for Retail specialises in making high-quality Gift Packaging.
We're passionate about packaging.
#Beercangiftpackaging #Beercanshippingboxes #Beerbottlegiftpacksandcarriers #Beerbottleshippingboxes #Giftboxes #Logostampsandinkpads #Seasonalpackaging #Winebottlepackaging #giftpackaging #packagingforretail #ginpackaging
#gingiftpackaging #transitboxes #shippingboxes #12beersofChristmas #Christmaspackaging #minikegshippingbox #ChristmasCracker #SinglebottleChristmasPackaging