Beer and Cider Bottle/Can Carrier/Shipping Box.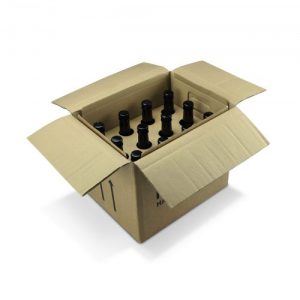 Thank you to Kelly at BeerGB for the very positive feedback about our 12 x 500ml Beer and Cider bottle shipping boxes (DB124). We're a small company and supply mainly other small businesses. We work hard to provide the best products we can – we know how vital quality shipping products are to our customers. 
Finally, I've found bottle shipping boxes I'm happy with, yours. They are easy to make up, and we can package our orders a little faster and not use extra materials such as tissue paper – plus they are a really competitive price. Oh – and the communication is great too! 🙂
Regards
Kelly Barbenson 
Beer GB 
About Beer GB:
Beer GB stock over 300 independently brewed craft beers and ciders. There is also a range of quality Natural Wines and small-batch produced gins. We try to encourage more sustainable beer packaging by refilling bottles or 'growlers' with beers on our growler filling machines. Our counter-pressure filling machine purges O2 from the bottle and fills under pressure, so your beer stays fresh for weeks. Good eh?
About Packaging for Retail:
Our high-quality Beer and Cider shipping packaging has double-walled outer and double-walled dividers. It has unique top and bottom fitments, which make it suitable Beer and Cider Transit Packaging. This box is also ideal for Beer or Cider Can Shipping Packaging. 
Other options:
12 x 500ml Beer or Cider Bottles

6 x 500ml 12 x 330ml Beer or Cider Cans

24 x 330ml Beer or Cider Cans
The outer also comes with a double crease which enables it to hold the taller 500ml Bottle.
All our Beer and Cider Shipping Packaging come pre-printed with 'RIGHT WAY UP' arrows and 'FRAGILE'.
Order online today: Beer & Cider Bottle/Can Carrier Shipping Box
#BeerCiderCanGiftPackaging #breweryoutlets #bottleshopoutlets #BeerCiderCanShippingBoxes #Beer #Cider #BottleGiftPacksandCarriers #GiftBoxes #Shippingboxes #shippingcarrierbox #shippingcarrierpackaging #Mixerspackaging #Cocktailspackaging #Saucespackaging #Preservespackaging #JarPackaging #SeasonalPackaging #WineBottlePackaging #vegan #softdrinkspackaging #lowalcoholpackaging #wheatfreebeerpackaging #softdrinkcanpackaging#veganbeer #glutenfreebeer #naturalwine #redwine #whitewine #rosewine #prosecco #englishwine #sparklingwine