Our 6 x 440ml Beer & Cider Can Shipping Box is back in stock!
A very popular choice with Brewery and Bottle Shop outlets. This high quality shipping box can securely hold 6 x 440ml Cider, Beer or Non-alcoholic drinks. It has a single walled outer and can come with dividers.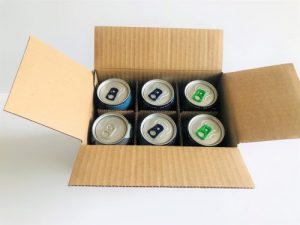 Dimensions: 202w x 133d x 170h
From £0.70 – £0.90 per unit plus VAT (minimum order quantity applies).
Order online today, while stocks last!
BEER AND CIDER 6 CAN SHIPPING BOX
Great Packaging adds value to your products at Packaging for Retail we make Great Packaging solutions for you. Choose from the wide range of Plain Craft Packaging in our shop or a bespoke solution made to your specification.
#BeerCiderCanGiftPackaging #breweryoutlets #bottleshopoutlets #BeerCiderCanShippingBoxes #Beer #Cider #BottleGiftPacksandCarriers #GiftBoxes #Shippingboxes #Mixerspackaging #Cocktailspackaging #Saucespackaging #Preservespackaging #JarPackaging #SeasonalPackaging #WineBottlePackaging #veganpackaging #softdrinkspackaging #lowalcoholpackaging #wheatfreebeerpackaging #softdrinkcanpackaging #sofdrinks #Canshippingbox #Veganbeeer