12 X 500ML BEER AND CIDER BOTTLE PACKAGING.
CAN CARRIER/SHIPPING BOX.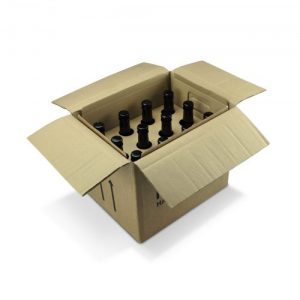 Dimensions: 320 x 245 x 255 X 280mm.
This high-quality Beer and Cider shipping packaging has a double-walled outer and double-walled dividers. Also, it has a unique top and bottom fitments which make it suitable beer and cider transit packaging. This box is also suitable for beer or cider can shipping packaging. It can be configured in various ways to hold:
12 x 500ml beer or cider bottles

6 x 500ml 12 x 330ml beer or cider cans

24 x 330ml beer or cider cans.
The outer also comes with a double crease which enables it to hold the taller 500ml bottle.
All our beer and cider shipping packaging come pre-printed with 'RIGHT WAY UP' arrows and 'FRAGILE'.
See what one of our customers had to say:
'………lovely, thanks, Bernie.
I'm really pleased with the boxes – we haven't had any breakages/returns to date'.
Tom Rae, 
Mourne Mountains Brewery
About Packaging for Retail.
Our gift packaging is created from fully recyclable and plastic-free materials. Packaging for Retail can provide bespoke print services Contact us for details, and we will give you a quote (minimum orders may apply).
Other products include.
#Beercangiftpackaging #Beercanshippingboxes #Beerbottlegiftpacksandcarriers #Beerbottleshippingboxes #Giftboxes #Logostampsandinkpads #Preserveandjarpackaging #Seasonalpackaging #Winebottlepackaging
#giftpackaging #packagingforretail #ginpackaging
#gingiftpackaging #transitboxes #shippingboxes
#12beersofChristmas #Christmaspackaging