Beer and Cider Bottle Gift Box.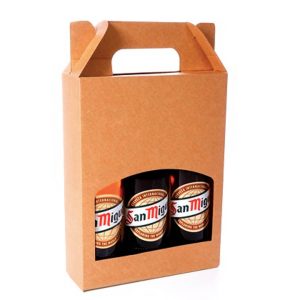 At Packaging for Retail we love getting feedback from our customers, like this message from Artefact Brewing:
"Packaging For Retail has really helped us out in the build-up to Christmas with their quick and friendly service and great products."
James Phillips / Artefact Brewing
About Artefact Brewing.
We are a new microbrewery based in the village of Ixworth, near Bury St Edmunds. Our brewery is a small 200L system, set up in a converted shipping container on our family farm.
Run part-time by husband and wife team, James and Kat, Artefact Brewing's ethos is to make good-quality small-batch beers, with an emphasis on experimenting with local ingredients and seasonal releases.
Please take a look at their website: https://artefactbrewing.co.uk
This Beer Bottle Gift Box holds 3 x 330ml bottles. This Packaging comes in plain craft cardboard which can be customised by applying your own label/logo and is also available in a high-quality black finish.
Order online today: https://www.packaging4retail.co.uk/product/3-x-330ml-beer-cider-bottle-gift-pack-db72/
Packaging for Retail specialises in making high-quality Gift Packaging. We're passionate about packaging:
#Beercangiftpackaging #Beercanshippingboxes #Beerbottlegiftpacksandcarriers #Beerbottleshippingboxes #Giftboxes #Logostampsandinkpads #Seasonalpackaging #Winebottlepackaging #giftpackaging #packagingforretail #ginpackaging#gingiftpackaging #transitboxes #shippingboxes #12beersofChristmas #Christmaspackaging #minikegshippingbox #ChristmasCracker #SinglebottleChristmasPackaging